Help Protect your MINI for the road ahead.

A member of the Bob Smith team or a customer care representative from MINI may have contacted you recently about your Coverage on one or more of your vehicles.
We have a few options for you that we want to make you aware of to help protect your Ultimate Driving Machine©.
Extended Service Contracts
Repairs to any vehicle over time are a certainty. It's always best to plan ahead to avoid unexpected vehicle repair expenses. Bob Smith has a few different options for you.
Our plans include Roadside Assistance and \Trip Interruption Coverage. Here is a quick guide to some of the options that may be available to you.
Reserve
Our highest level of coverage.
An exclusionary policy covering all components on your
vehicle except items considered normal maintenance by the
manufacturer. The following items are not covered
Estate
Includes Sterling & Powertrain coverages, plus
Front/Rear Suspension Group
Enhanced Electrical Group
Hybrid/Electric Vehicle Group
Hybrid/Electric Vehicle Battery
Sterling
Includes Powertrain coverages, plus
Power Steering Group
Air Conditioning Group
Cooling Group
Electrical Group
Powertrain
Our basic coverage
Engine Group
Turbocharger/Supercharger
Transmission, Transaxle & Transfer Case (4×4/AWD)
Drive Axle Group (Front or Rear)
Hybrid/Electric Vehicle Group
Seals & Gaskets
Suspension/Tire/Wheel Modifications
Warranty Remaining Option
TERMS AND PROVISIONS
These are general coverage descriptions. Please refer to the service contract for complete terms and provisions. Model years >20 years old are not eligible for Estate or Reserve coverage plans.
---
Roadside Assistance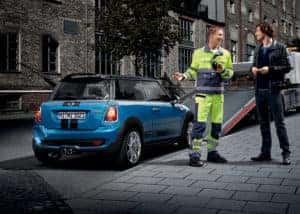 If your MINI happens to break down, our Roadside Assistance team won't leave you stranded. Our team will arrange to have your MINI towed to the nearest MINI Dealer or qualified repair facility within a 150-mile radius. The roadside assistance team will be available to you 24/7.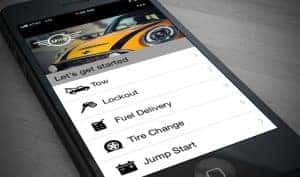 Most MINIs do not have spare tires, instead, they are equipped with run-flat tires (some performance MINI models may not have run-flat tires). Check with your tire manufacturer to find out your specific tire OEM recommendations. Some run-flat tires may go 50 miles (80km) at a speed of less than 50 MPH (80 km/h) on a flat tire.
In the event, your vehicle is not safe to drive, or if you simply want to get your MINI to a MINI Service Center to have the tires replaced a member of our roadside assistance team will make the arrangements to have your vehicle towed to the nearest service center.
Also, included with your extended service contract are emergency fuel delivery service, battery jump service, Key Lockout Service, Rental Car, and Trip Interruption coverage. Our Finance and Insurance team is available to answer any questions you may have or provide cost estimates for any level of service you may need.